Model Building in Natural Environments
Introduction
This work deals with the development of the use of a video camera in order to add useful information for both localization and navigation of a mobile robot roving in natural environments.

The line of research in perception for mobile robot are basically focused on 3-D information, obtained by a laser ranger finder or a stereoscopic system. However, depth information is not enough to get a complete description of the environment. Other information such as the nature of the elements presents in the scene have to be taken into account.


Our approach
We are using the Earth Mover's Distance as an environment recognition method, in such a way and appropriate data base is found making it easier to label extracted regions by a reduced number of classes and allowing to make inferences from contextual information. Involving this information helps controlling the decision making process required to correctly identify natural objects and to describe natural scenes. In order to achieved the scene interpretation in a single image, we have proposed the following approach. This one consists in several phases executed in sequence and the cooperation among them is possible. The result of the previous phase could be checked by the current phase and if it is necessary corrected.

The principal phases of the approach are:
Experiments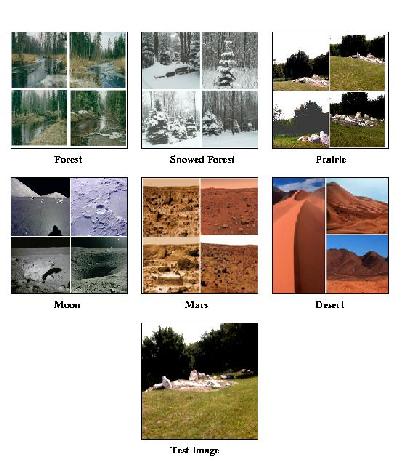 Environment recognition


The following images show the outdoor experimental site of outdoor robots at the LAAS-CNRS.


Original Images
Segmented and classified images
Class

A vision system for outdoor robot navigation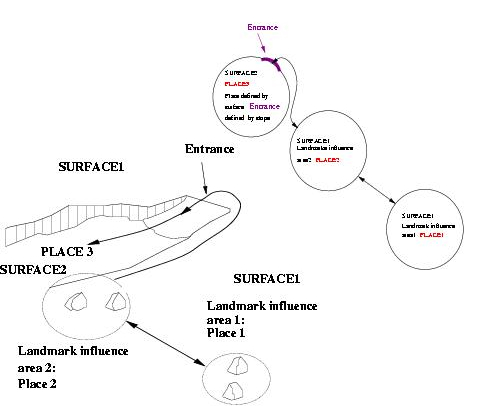 Environment Modeling

| | |
| --- | --- |
| | |
| Robot visual navigation based on landmarks | Simultaneous Localization and Modeling (SLAM) |
Publications
Links to similar research
Back to the main page
---
Nicolas Vandapel Modificado: Tue Mar 3 11:59:05 2009, por: Rafael Eric Murrieta Cid