Manuel González Villa
Investigador Titular A
Sistema Nacional de Investigadores, nivel I (2019-2025)
Matemática Básica
CIMAT, A.C. Email: manuel dot gonzalez at cimat dot mx Teaching (past)
Fall 21: Matemáticas elementales. Universidad de Guanajuato.
Spring 21: Geometría local de curvas planas
Research
Funding My research is currently founded by CONACYT's grant 320393 belonging to the call Ciencia Básica y/o Ciencia de Frontera Modalidad: Paradigmas y Controversias de la Ciencia 2022, and by Spanish Goverment (MCIN/AEI/10.13039/501100011033) grant PID2020-114750GB-C31.
Publications...
• (with N. Budur and P.D. González-Pérez) Log canonical thresholds of quasi-ordinary hypersurface singularities. Proc. of the AMS. 140 (2012) 4075-4083. Preprint at arXiv.

• (with P.D. González-Pérez) Motivic Milnor fiber of a quasi-ordinary hypersurface. J. Reine Angew. Math. 687 (2014), 159-205. Preprint at arXiv • Newton process and semigroups of irreducible quasi-ordinary power series. Rev. R. Acad. Cienc. Exactas Fis. Nat. Ser. A Math. RACSAM 108 (2014), no. 1, 259-279. • Inner Jumping Numbers of Non Degenerate Polynomials. Math. Z. August 2013, Volume 274, Issue 3-4, pp 1113-1118. • (with A. Lemahieu) The Monodromy Conjecture for Plane Meromorphic germs Bull. Lond. Math. Soc. 46 (2014), no. 3, 441-453. Preprint at arXiv. • (with A. Libgober and L. Maxim) Motivic infinite cyclic covers. Adv. Math. 298 (2016), 413-447. Preprint at arXiv. • (with A. Libgober and L. Maxim) Motivic zeta functions and infinite cyclic covers. Local and global methods in algebraic geometry, 117-141, Contemp. Math., 712, Amer. Math. Soc., Providence, RI, 2018. N. Budur, R. Docampo, T. de Fernex, and K. Tucker (eds.) Preprint at arXiv • (with G. Kennedy and L. McEwan) A recursive formula for the motivic Milnor fiber of a plane curve. Singularities, algebraic geometry, commutative algebra, and related topics, 203-218, Springer, Cham, 2018. G.-M. Greuel, L. Narváez Macarro, S. Xambó-Descamps (Eds.) Preprint at arXiv • (with E. Artal-Bartolo) On Maximal order poles of generalized topological zeta functions. p-adic analysis, arithmetics, and singularities, 225?230, Contemp. Math. 778, Amer. Math. Soc., Providence, RI, 2022. C. Galindo, A. Melle-Hernandez, J.J. Moyano and W.A. Zúñiga-Galindo (eds.) Preprint at arXiv • (with D. Jaramillo-Vélez, L. Núñez-Betancourt) F-thresholds and test ideals of Thom-Sebastiani type polynomials. Proc AMS Volume 150, Number 9, September 2022, Pages 3739--3755. Preprint at arXiv • (with L. Alanis López, E. Artal-Bartolo, C. Bonatti, X. Gómez-Mont, and P. Portilla-Cuadrado) On a quadratic form associated with a surface automorphism and its applications to Singularity Theory. Indagationes Mathematicae Volume 33, Issue 4, July 2022, Pages 816-843. Preprint at arXiv. Additional material. • (with C.R. Guzmán Durán, P.D. González Pérez, and M. Robredo Bruces) Multiplier ideals of plane curve singularities via Newton polygons, Communications in Algebra, published online on September 22, 2023. Additional material. Preprint at arXiv
...and preprints
• (with J. Àlvarez Montaner, E. León Cardenal, L. Núñez-Betancourt) Bernstein-Sato polynomial and related invariants for meromorphic functions. Submitted.
Students and postdocs
Ph.D.
• Carlos Rodrigo Guzmán Durán, Ideales Multiplicadores de Curvas Planas, CIMAT, 2018, (co-advisor: Xavier Gómez-Mont). • Oscar Moreno Castañón, UNAM (co-advisor: Fuensanta Aroca). • Victor Manuel Burgos Guerrero, CINVESTAV (co-advisor: Wilson Zuñiga Galindo) • Lorena Montserrat Noh Canul, CIMAT.
M.Sc.
• Delio Jaramillo Vélez, On F-Pure Thresholds: Computations and Relations to Others Invariants, CIMAT, 2019, (co-advisor: Luis Núñez Betancourt). • Emmanuel Fuentes Peña, Descomposiciones de Zariski de ideales multiplicadores de curvas planas, CIMAT, 2020.
Postdocs
• Otto Hector Romero German (Postdoc Conacyt 2021-2023).
Activities (past)
• Coloquio CIMAT DEMAT, (with Héctor Chang).

• Seminario AC/AG CIMAT, (with Edwin León Cardenal).

• Comité Editorial del Boletín RSME (último número)

• 6th Brazil-Chile-Mexico Meeting on Singularities, CMO, 26 august-1 september, Oaxaca, Mexico.
• AM115 Algebraic and topological interplay of algebraic varieties A Conference in Honor of the 60th Birthday of Enrique Artal and the 55th Birthday of Alejandro Melle, June 12-17 2022, Jaca, Spain. (with J.I. Cogolludo, F. Delgado, M. Izquierdos, M.A. Marco Buzunáriz, L. Maxim, j. Martín Morales, M. Pe Pereira, H. Tokunaga)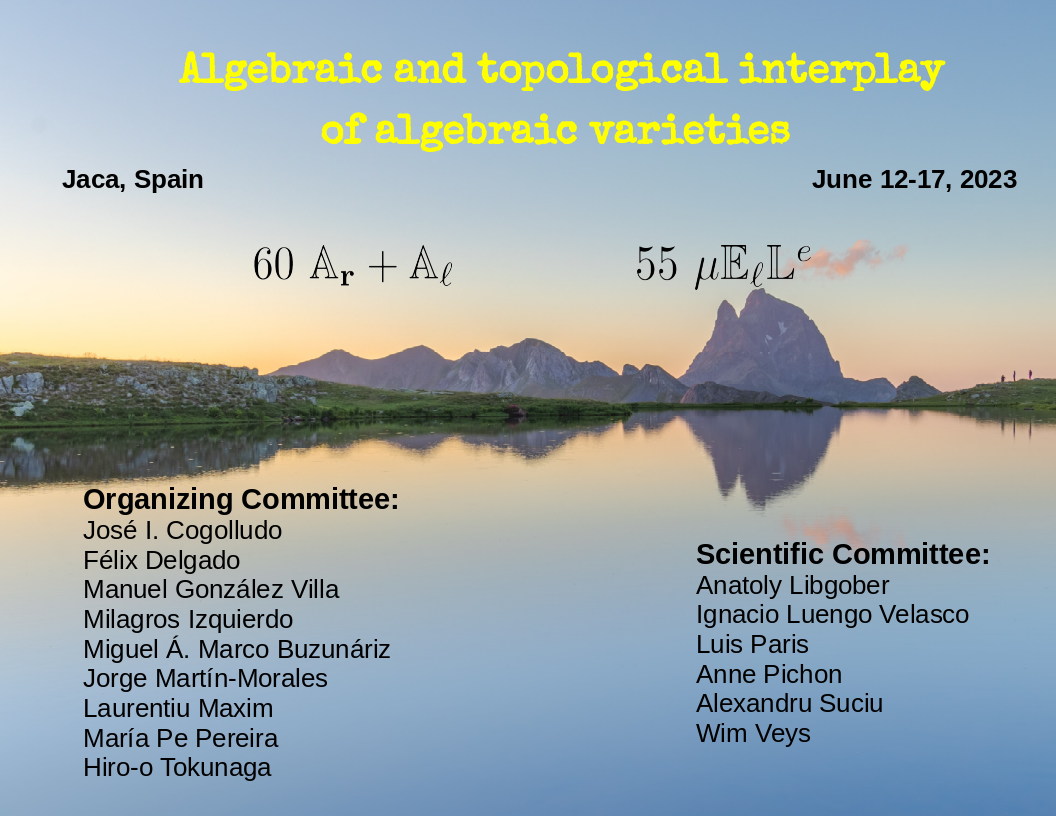 • Interacciones p-ádicas: Análisis, Geometría Algebraica y Física. Sesión especial del 55 Congreso Nacional de la SMM (with M. Bocardo Gaspar)

• PASCA 2022 Pan-American School in Commutative Algebra, A graduate summer school in Guanajuato, Mexico, June 20 - July 1, 2022, (with Jack Jeffries, J. Montaño, and Y. Pitones). Recordings
• CIMPA-CIMAT Research School: p-Adic Numbers, Ultrametric Analysis, and Applications Guanajuato, CIMAT, May 23-31, 2022 (with W. Zuñiga Galindo, T. Digernes, E. León Cardenal, R. Pérez Buendía...).
Recordings: Day 1, Day 2, Day 3, Day 4, Day 5, Day 6, Day 7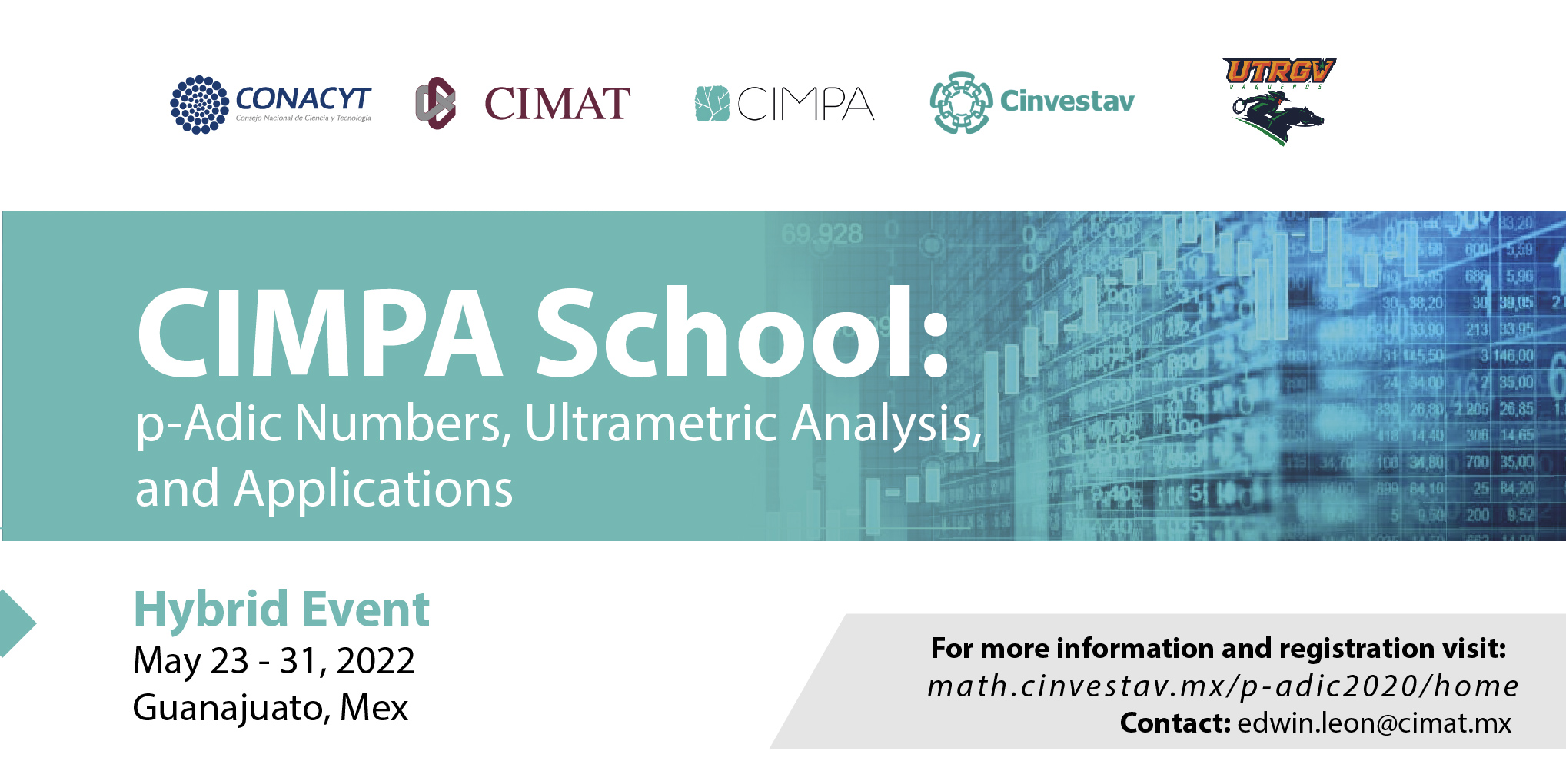 • Sesion Especial Virtual Teoria de Singularidades, (con José Seade y Carlos Galindo; programa) Reunión Conjunta SMM-RSME, CIMAT, Guanjuato, GTO, June 14-18, 2021. Cartel.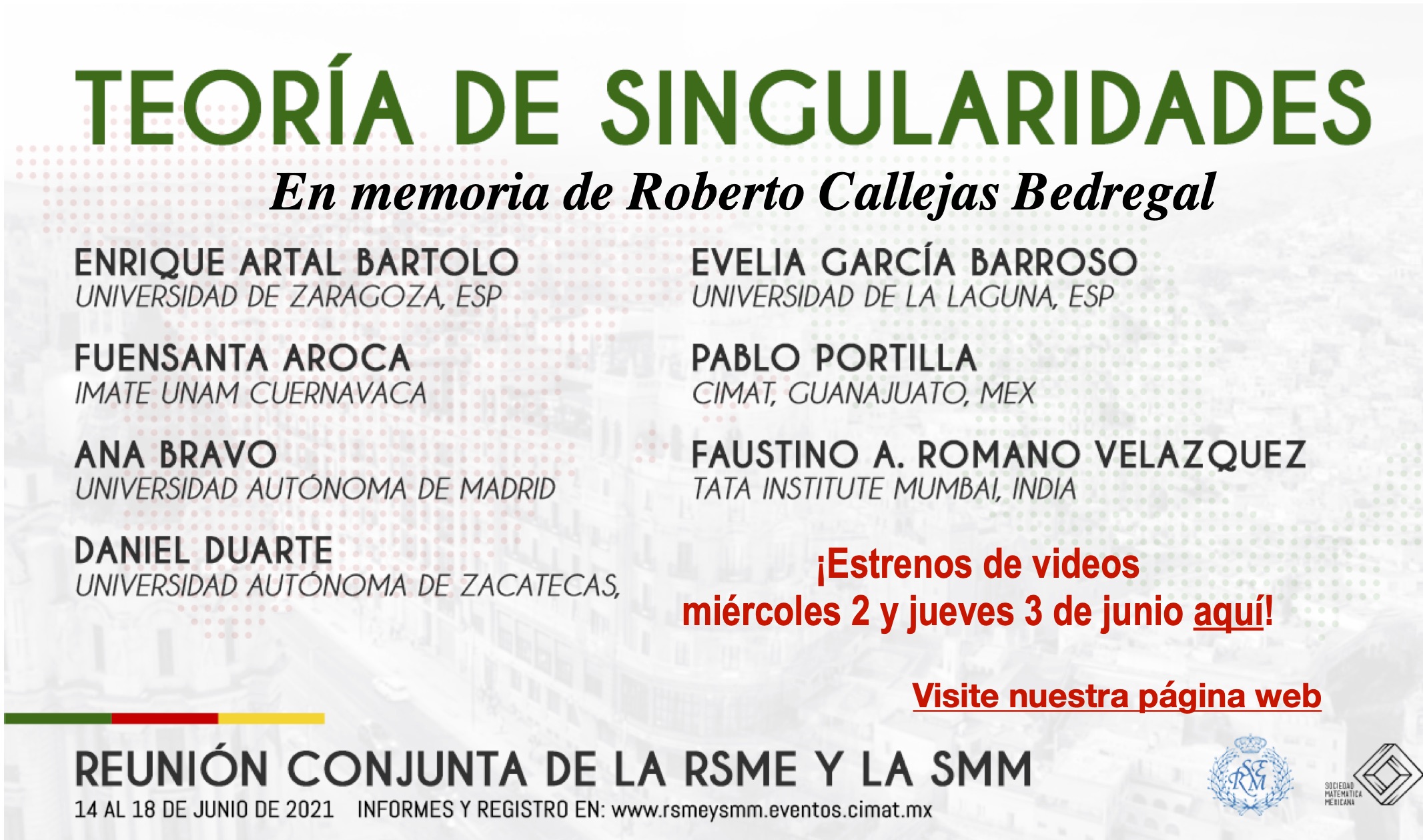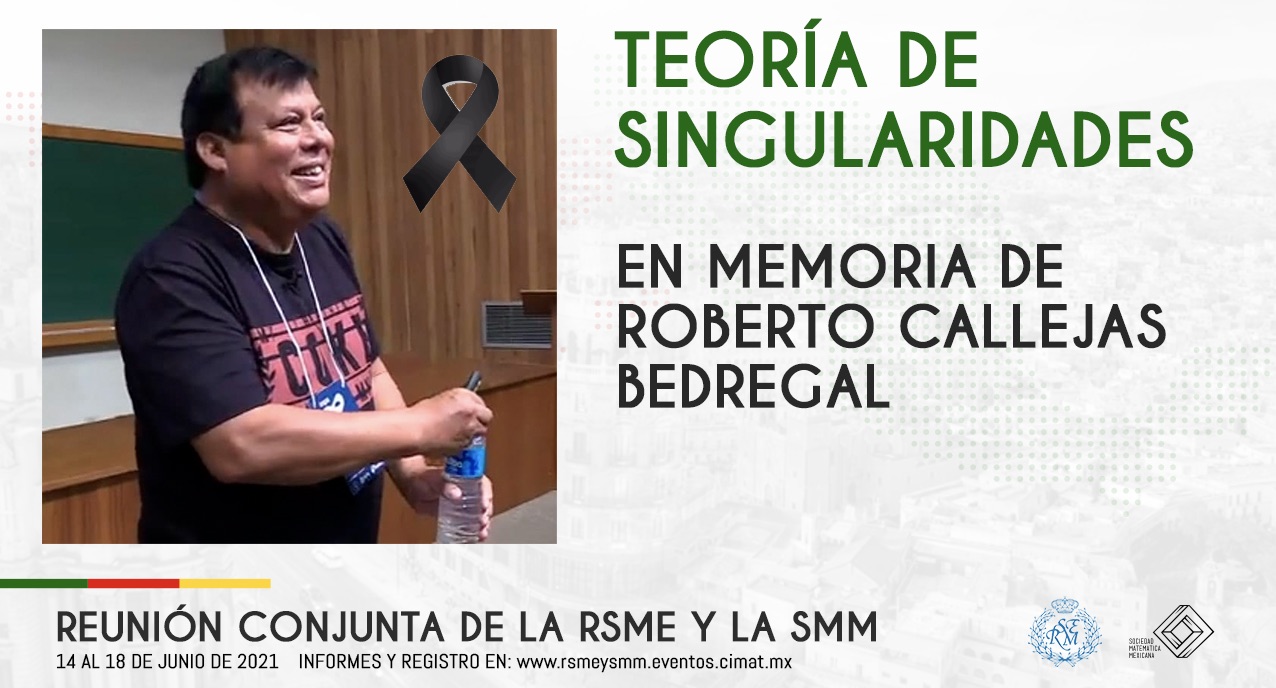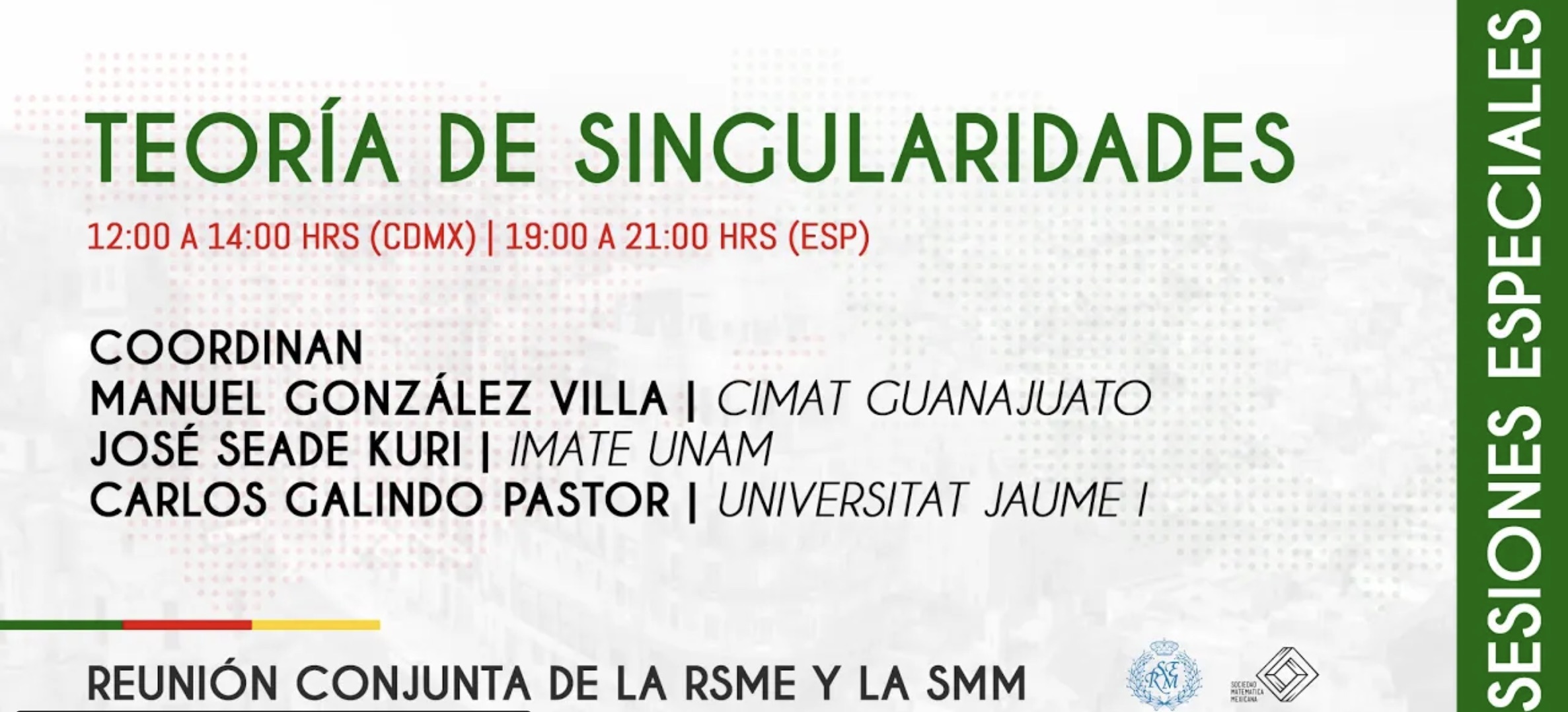 • Workshop in Analytical and Topological Methods in Singularity Theory (with E. León Cardenal and X. Gómez-Mont) CIMAT, Guanajuato, November 4-15, 2019. • Reuniones de orientación para estudiantes de CIMAT. • Comité Bibliográfico RSME